News/Features
Delgado Hospital Embarks on Expansion Program
Wednesday | 22 January 2020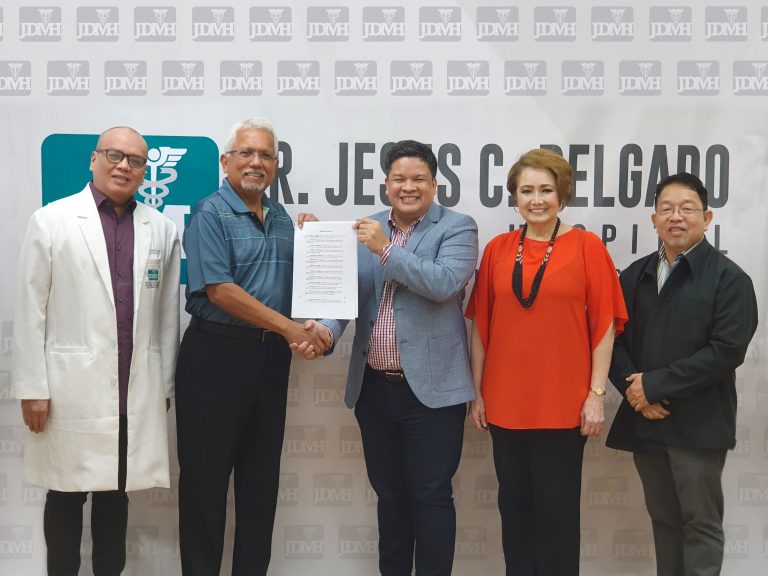 Executives of Dr. Jesus C. Delgado Memorial Hospital (JDMH) formalizing the purchase of an adjoining property along Kamuning Road, Quezon City (left to right): Danilo T. Gabionza, MD, Medical Director of JDMH; Eduardo N. Serran, representing the former owners of the acquired property; Joel I. Rodriguez, President and CEO of JDMH; Ma. Violeta Delgado-Cojuangco, JDMH Board Member; Percival A. Casaje, Chief Finance Officer of JDMH.
Dr. Jesus C. Delgado Memorial Hospital (JDMH) recently embarked on its extensive expansion program by purchasing an adjoining property along Kamuning Road, Quezon City.
"The acquisition of this land – which will be the future site of our new doctors' and specialty clinics – is pivotal as Delgado Hospital looks to expand its services to the community and reiterate our commitment as a women's care specialist," remarked Joel I. Rodriguez, President and General Manager of JDMH. "As part of the program, we have commenced with the renovations to our existing doctors' clinics and other hospital facilities."
"This 2020, we will also unveil new patient rooms, as well as launch our new fertility clinic in order to assist yearning couples who have issues conceiving a baby. This facility will be headed by established reproductive medicine specialists, and serve as a hub for quality fertility diagnostic and treatment services such as basic infertility laboratory testing, fertility monitoring, and intrauterine insemination (IUI)―which we will offer at affordable rates," Rodriguez added. "Such initiatives are just the tip of the iceberg as we continue to pursue our vision to become the leading women's hospital in the Philippines."
Delgado Hospital is one of the 15 hospitals under the Metro Pacific Hospital Holdings, Inc. (MPHHI), the largest private hospital operator in the Philippines. MPHHI likewise has, in its portfolio, a growing network of primary care and cancer care centers, a centralized clinical laboratory, and 2 allied health colleges.
Other articles you may be interested in



Why IUI?
Assisted Fertility Extends Hope for Yearning Couples




The Weight of Infertility
How Weight Affects a Couple's Ability to Conceive


Maybe it's Me…
Exploring Male Contributing Factors to Infertility

Such a Downer
How Alcohol Consumption Affects Fertility

How Dreams Go up in Smoke
Effects of Smoking on Fertility